Genus/Species
Rabbitfishes
Clinical entries
For clinical data see section "Risk" below
Taxonomy
Osteichthyes; Perciformes; Siganidae (= Teuthidae)
Common names
Rabbitfishes, Kaninchenfische
Distribution
Indo-Pacific, Mediterranean, Red Sea. Some species also found in brackish water or freshwater.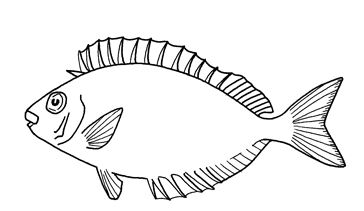 Fig. 4.26 Siganus sp.
Biology
Smaller fishes, up to 30 cm in length. Live in pairs or in smaller schools, in rocky coastal areas or coral reefs. Body shape oval and greatly compressed laterally.
The name "Rabbitfish" comes from the rabbit-like form of the mouth. They are excellent at camouflaging themselves by changing colour to blend in with their surroundings.
Remarkably pointed fin rays, and in the studied species of the genus Siganus (= Teuthis), some of the fin rays were found to have lateral grooves and venom glands (13 in the dorsal fin, 7 in the anal fin, as well as the first and last ray in the pelvic fins).
Risk
There is little information on envenoming. Stings cause strong radiating pain and in some cases swelling.
Treatment
Symptomatic.
Literature (biological)
De Couet et al. 1981, Halstead 1988, Halstead et al. 1971