Genus/Species
Buthus spp., with the focus on B. occitanus
Clinical entries
Species
The former species Buthus occitanus is being increasingly divided into different species. Besides Buthus occitanus there are currently 29 further species included in the genus Buthus. Up to 2009, clinical reports continued to name B. occitanus as causing stings, although it can be assumed that various other Buthus species may have caused these stings, and precise morphological species identification was not undertaken. Until the most recent taxonomic changes are also recognised in clinical publications, it is appropriate to render B. occitanus in the old sense as the "Buthus occitanus species complex".
Taxonomy
Arachnida; Scorpiones; Buthidae
Common names
Distribution
Southern Europe (Spain, southern France, the Balkans, Greece, Cyprus). North Africa: in the north from Morocco to Egypt, in the south from Senegal to Sudan, Ethiopia and Somalia. Middle East (Sinai, Israel, Yemen).
Biology
Colouring light yellow to dark brown, sometimes with dark stripes on the upper surface of the mesosoma. Length 4.5–7 cm.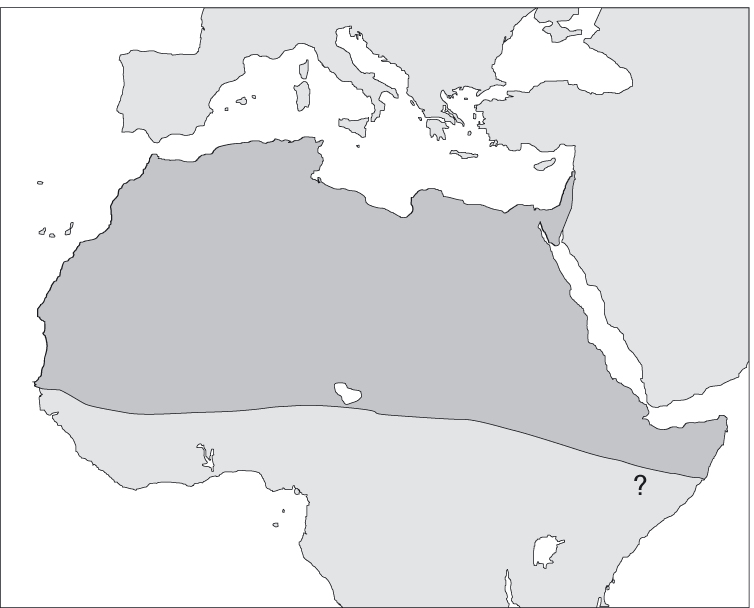 Map 2 "Buthus occitanus species complex": distribution in North Africa. Due to lack of information, the distribution area in Europe is not shown. A newly described Buthus species from Yemen has not been added.
Distribution from the lowlands to the mountains, as far as the snow line. In North Africa this species lives under stones, in the sand, in sand dunes and rocky deserts and in some areas are found in large numbers. In contrast to Androctonus, B. occitanus also inhabits coastal areas.
B. occitanus is also seen in villages and cities, and in Tunisia it is often found in the widespread cactus hedges, as are Androctonus sp. This species can also be found in cracks in walls.
Risk
See also the section "Risk" for Androctonus spp. Populations on the European continent are classed as less dangerous than the North African populations (Goyffon and Chippaux 1984). In Spain, stings from these scorpions generally only cause local symptoms (Gonzales 1980, Casal and Luque 1985).
The large area of distribution of these scorpions in North Africa overlaps in many regions with that of Androctonus sp. and Leiurus quinquestriatus. In these regions, B. occitanus appears to be less dangerous than Androctonus and Leiurus (Goyffon et al. 1982, Amr et al. 1988, Alamir et al. 1992), but several cases of severe envenoming and isolated fatalities due to this species have been recorded in Algeria and Jordan (Bouisset and Larrouy 1962, Wahbeh 1965). B. occitanus (B. tunetanus?) has been blamed for cases of dangerous envenoming also in Tunisia (Bouaziz et al. 2008), and cases of severe envenoming have been attributed to this species in Morocco as well (Abourazzak et al. 2009).
Literature (biological)
Fet et al. 2000, Vachon 1949, Kinzelbach 1985, Keegan 1980, Levy and Amitai 1980, Lourenco 2008b, Lourenco et al. 2009, Nouira and Ktari 1989